We are specialist for dust filtration bags
from paper / fully synthetic material
for household and commercial vacuums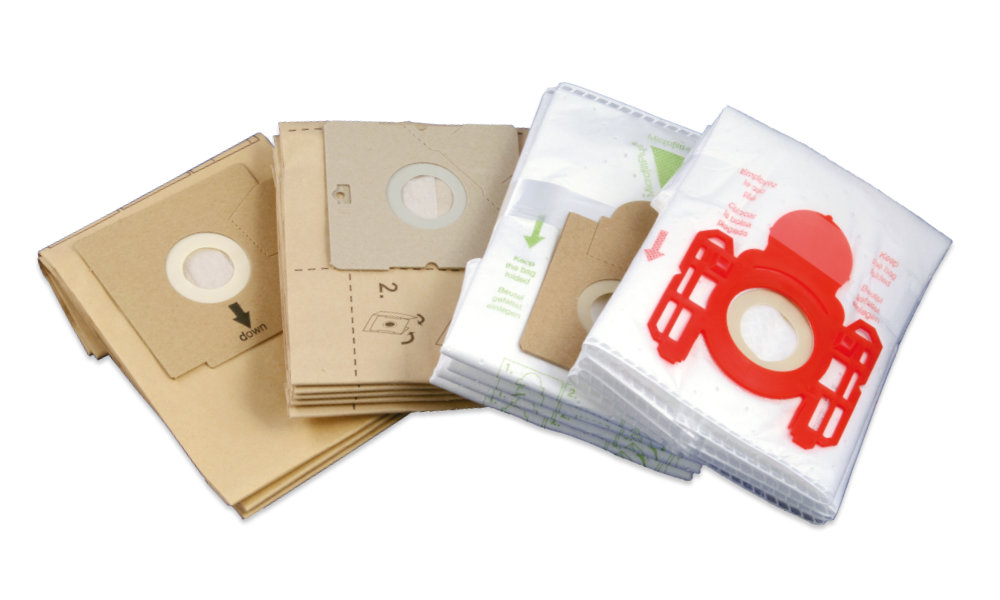 Dust filtration bag
Dust filtration bags from Löseke made of paper or our fully synthetic material "MicrofiltPlus®" - hygienic and functional.
Whether as a full-service supplier to the trade or as a system supplier to equipment manufacturers. We and our customers see ourselves as a competent and efficient partner for both sides.
As a specialist for private label packaging and with our production program of more than 650 articles, we provide retailers with expert advice and support.
For equipment manufacturers, we offer all the resources to successfully develop and manufacture the right bag for your equipment, based on our technical know-how and our extensive manufacturing capabilities.
We also assist in the development of a promotional packaging - whether it is to be packed in a pe-foil package or in a folding box: Our state-of-the-art packaging facility offers all possibilities!
General information about the dust filtration bag
Why dust filtration bag and not vacuum cleaner bag?
Visually, it is a bag, but the essential task of a vacuum cleaner bag is filtration.
In terms of the function of a vacuum cleaner and the filtration chain built inside the device, the dust filtration bag represents the first and most important stage of filtration.
Dust and dirt particles are sucked into the interior of the vacuum cleaner by a strong negative pressure. The sucked particles are filtered through the material of the bag and collected inside the bag. The downstream filter stages, such as motor protection and micro exhaust filters or HEPA filter cassettes, then only round off the suction result.
Advantage of using a vacuum cleaner with dust filtration bag:
Vacuum cleaners with dust filtration bags usually have a significantly higher suction power for longer than comparable bagless vacuum cleaners.
Disposing of a filled dust filtration bag is demonstrably much more hygienic than emptying the full dust container of a bagless device. When emptying the dust container, a lot of fine dust that the user has vacuumed up unfortunately comes back to the user. This poses a high risk to the health of allergy sufferers in particular.
Bagless devices usually have very expensive HEPA filters that the user must replace regularly or that can be washed out in the washing machine/dishwasher. Cleaning the filter in the washing machine/dishwasher together with laundry/dishes of daily use is a challenge for hygiene awareness. Cleaning it separately with an extra wash cycle, on the other hand, is an expensive energy-intensive operation.
CONCLUSION: The dust filtration bag is not a simple dust collection container, but an essential contribution to the performance and user-friendliness of the device. The bag is and remains the simplest and most hygienic form of dust disposal!
Löseke as a partner of the stationary trade
Löseke the full-service partner for retailers:
With our production program of currently more than 650 different articles, we offer the right dust-fit bag for the majority of devices worldwide.
Specialist in private label packaging both polyethylene packaging, and folding carton packaging.
Many years of successful cooperation with inter/national retail chains.
To support sales, we offer an extensive ADDED VALUE program with the aim of increasing success directly at the POS:
Assortment consulting & optimization
Shelf Care
Catalogs / Info sheets / Placeholder cards
Support for promotional devices
Storechecks
Löseke as partner of the equipment manufacturers (OEM)
Löseke the system partner of the equipment manufacturers:
Many years of successful cooperation with international equipment manufacturers.
Production of single and multilayer paper bags up to 525 mm width x 1,000 mm length.
Manufacture of fully synthetic bags with and without gusset for household and commercial / professional use.
Development, processing and production of:
Cardboard flanges with and without hygienic closure systems.
Plastic flanges with rubber gasket
Ensuring consistently high quality standards through our own quality and testing laboratory.
Custom Development Service:
Bag development exactly according to equipment requirements using our CAD system.
Selection and permanent optimization of materials together with the material manufacturers.
Development and production of suitable flanges and hygienic closure systems.
Support for device optimization.
Löseke as a partner of online trade / e-commerce
Löseke the full-service partner for e-commerce retail:
With our years of know-how in e-commerce, we offer you the support you need for sales in the e-commerce business.
We support you in the cost-effective design of your packaging:
This includes the selection of the appropriate packaging material as well as the packaging size made of polyethylene or as folding box packaging or cardboard (printed in several colors or with a simple label).
Our relevant experience is based on many years of successful cooperation with inter/national e-commerce customers.
To support sales, we offer a comprehensive program aimed at increasing e-commerce success:
Product range consulting
Product listing &optimization support
Advice on marketing campaigns
Shipping optimization
International distribution